One of the richest men in Japan, and proposed SpaceX moon-rocket guinea pig, "billionaire" Yusaku Maezawa, has apparently found himself out of money, according to The Star.
According to Maezawa's recent comments on Twitter, the largest shareholder of shopping site Zozo Inc. said that he's selling some of his art collection to raise money. On top of that, he's also borrowing against more of his Zozo stock. 
Maezawa has earned a reputation as one of the world's biggest spenders, as he has poured hundreds of millions of dollars into items like a Hermes-upholstered private jet and, most recently, a down payment on Elon Musk's rocket around the moon. But, as Maezawa may soon find out about his rocket trip, you can't always judge a billionaire book by its cover. Maezawa has been forced to pledge 88% of his stock holdings in Zozo to UBS and Nomura as collateral for loans.
He tweeted on Sunday, when asked about his finances: "Yes, I have no money. I spend it so quickly."
Maezawa also said he needed to finance more cash giveaways to his Twitter supporters, a strategy that has earned him millions of followers on the platform.
His net worth is currently estimated at $1.4 billion, according to the Bloomberg Billionaire's Index, although that number may need to be drastically cut soon. In February, Maezawa announced that he had taken a break from Twitter to "focus on his actual job". Zozo has lost more than 50% of its market value since peaking in July, after rallying about 4000% over the last 10 years. Maezawa returned to Twitter about two weeks ago.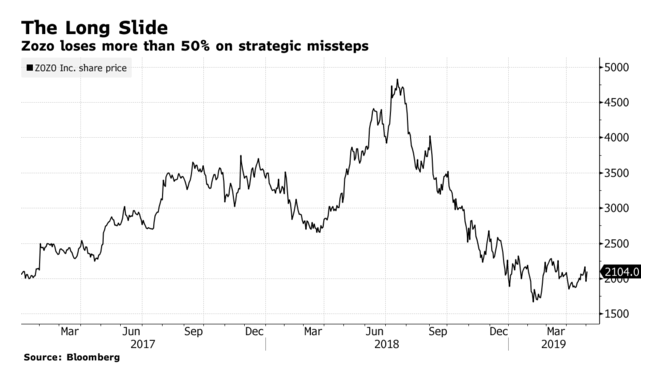 The billionaire owns about 36% of the company's outstanding shares, but has steadily increased his stock holdings pledged as collateral from 69% two years ago, to 79% a year ago, to 88% in February. His ratio of pledged shares is unusually high compared to other founders in Japan and Asia. For instance, Softbank's Masayoshi Son has pledged about 33% of his holdings in his company. 
Maezawa was formerly dubbed the art world's new sucker rockstar in 2017 by Christie's after he bought a string of high profile pieces of art.
But this weekend, he announced he would be selling works that he owned, including a painting by Andy Warhol, at a Sotheby's auction on May 16. He also sold works in April, despite not publicly acknowledging the sales.
Best of all, Maezawa (and more importantly, his money) has been labeled a "crucial piece" of Elon Musk's upcoming rocket to the moon project, which is set for 2023. His down payment to SpaceX had a "material" impact on the development of the project, which will cost about $5 billion, according to Musk.
Even while under financial pressure, Maezawa continues to show defiance in his attitude. On Tuesday he tweeted a picture of himself at a statue of a giant middle finger in Milan. The piece of art had been a symbol of protest against bankers following the housing crisis. "Art is liberty," Maezawa said in the tweet.
アートは自由だ。

さて、これはどこでしょう? pic.twitter.com/CjMPPDPFPR

— Yusaku Maezawa (MZ) 前澤友作 (@yousuck2020) May 7, 2019